Baidu SEO
With already years of experience with Baidu SEO we have the knowledge to rank high for your most important keywords. When using our Baidu SEO services we will do the following:
Website-analysis.
When designing a new website that needs to be found its key focus should be to optimize it for search engines. By looking at the competition and search volumes for every relevant keyword our key focus is to increase conversion rates. Especially on the Chinese internet many things have to be taken into consideration.
Keyword Research.
One of the most important aspects of SEO is to determine which keywords to focus. We will use keyword tools made for the Chinese internet in order to choose the best keywords for your business. The keywords used for Baidu SEO are based on:

Competition – How many other websites are already using this keyword?
Relevance – Is this keyword relevant to your product or service?
Search volume – Every keyword has an average search volume per day.

On page SEO / Website Optimization.
The website hierarchy is important to both search engines and visitors. Creating headers, title tags and having keywords come back in the text. Even website speed and duplicate content can affect your ranking. After the on page optimization we will add your website to Baidu's Zhanzhang (Webmaster tools).
Link building
In order to make your website more important for the search engines there must be links from all over the web pointing to your domain. It's not crucial, but it plays a big part in SEO.
Blogging
Blogging is a great way to put your top keywords to best use and increase overall importance in the Chinese search engines.
Monthly report
By using Google and Baidu Analytics we will make a report of traffic and visibility on the web. We always offer transparency to our clients.
Feel free to contact us any time and let us advise you for the best possible China SEO strategy.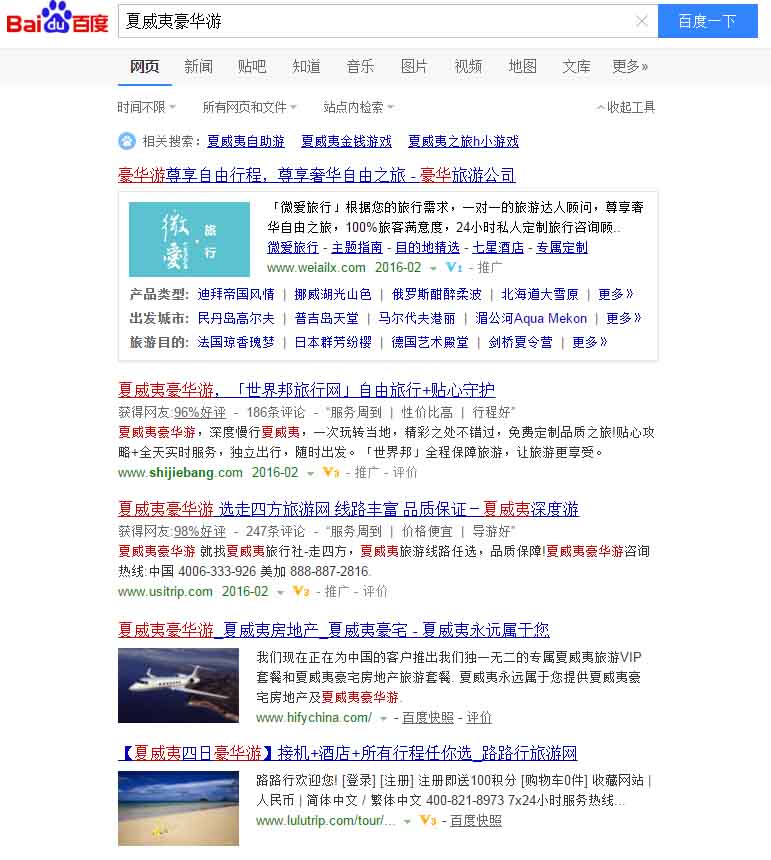 1
In this example the top 3 results are paid results by using the Baidu PPC network for keywords "Hawaii Luxury Travel"
2
An example of our client that ranks #1 for keyword "Hawaii Luxury Travel" after using our SEO service.